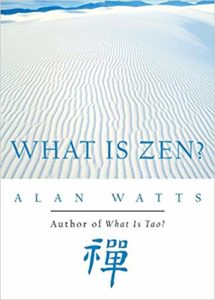 What if you could see all things as is, without judgment? In this article, Dr. Eric Amidi reviews the book "What Is Zen?" by Allan Watts. One of the guiding principles in modern science is Occam's razor – among all formations and models, the simplest is the right one. Likewise, Zen is seeing the world in complete obviousness. This book asserts that there are two stages to Zen training. The first stage is to reach nirvana – to see oneness in thousand formations. The second stage is to come back to the daily life of many forms and bring enlightenment to every aspect of it.
 Zen is a widely used phrase, yet you might not fully understand where it comes from, what it means to attain "zen" and how it can practically help your life. Let's take a good look at Zen, how it originated and how its traditions are helpful in living a productive, yet peaceful, life.
What is Zen?
Zen has its roots in Buddhism. In the 6th century CE, Zen began at the Ch'an school of Mahayana Buddhism in China. Originally, the Indian monk/scholar Bodhidharma brought Zen's origins from India into China. It was in the 12th century CE that "Zen" appeared in Japan.
Today, Zen is mainly associated with its Japanese roots as the word itself is the Japanese translation for dhyana. Dhyana is an ancient Sanskrit word that means "meditation".
Going back to the original teachings of Bodhidharma, we find that the overarching background of Zen included the idea that you don't need to perform fancy rituals, worship deities or study sacred texts in order to achieve the state of enlightenment. Instead, you want to focus your attention on "now" as you use your life experience and meditation to break down conventional thought boundaries.
Zen's Origins and Connection to Buddhism
It's worth taking the time to gain a deeper understanding about how our modern idea of Zen formed.
India was the first country to embrace Buddhism. Over time, thousands of Buddhist scriptures and hundreds of sects appeared. Later, this entire catalogue of material left India as Buddhism spread into China.
China already had a long history of Taoism and Confucianism. There was initial resistance to learning new ideologies that might be different from these two traditional schools of thought. Not only were the people bringing Buddhism into China thought to be barbarians, but there were major linguistic challenges in translating Buddhist language.
Over time, the combination of Indian and Chinese thoughts around Buddhism reshaped the teachings until Zen was created. This completely new branch of Buddhism took off and became successful inside parts of Korea, China, Vietnam and especially Japan.
What Are the Major Characteristics of Zen?
Zen is loosely based on Buddhism. While it does recognize its Buddhist roots, it has created its very own texts over the centuries that offer a more to-the-point, stripped-down version of Buddhism based on meditation instead of formal doctrine.
The Buddha isn't mentioned very often inside Zen teachings. Instead, its informal writings include a liberal combination of Chinese poetry, Confucianism and Taoism. You'll find many Chinese street slang and folk sayings since the classical form of Zen literature is based on teachings of various masters who have lived over the centuries.
To be more clear, Zen differs from traditional Buddhism in the fact that its teachings are based more on personal experience than official written texts. Its validity is confirmed instead by meditation and the personal experience that has been passed down through the years via intimate, hard training of master to disciple.
What is the Role of Meditation Inside Zen?
Zen is a practice heavily involving meditation as the guide toward enlightenment. This type of meditation is called Zazen, or "sitting Zen". Traditionally, monks wake up early every day in order to begin meditating. They will also go on long retreats involving many hours of silent meditation as they sit on their cushions.
When you practice Zazen, it literally means you're performing a seated meditation in the traditional Zen style. This style includes sitting with good upright posture, paying attention to breathing deeply from your stomach and making sure you are alert and fully "present" in this very moment in time.
Again, Zen is very much a tradition based on personal practice and experience, as opposed to learning texts or getting too involved with religious rituals.
How Can You Practice Zen Meditation?
There are various tips to help you practice Zazen. However, keep in mind that this method of meditation, by its definition, is a very simple, yet intense practice. A master will usually admonish a disciple to "simply sit!", with the emphasis placed on keeping a good upright posture.
Your focus should be to sit upright and pay close attention to how you're breathing from your belly. As you focus on your breathing, keep yourself fully present. Work to quiet the chatter inside your mind and find that place of "nothingness", where your mind is emptied of all thought.
Zen teaches that sitting inside this place of "no-thought" is where enlightenment is discovered. Your goal is to achieve a state of happiness that lasts longer and longer, whether you're meditating or not. Living inside this state, no matter what is happening around you, is considered to be "enlightenment".
More Tips to Help Your Zazen Mediation Routine
Where you meditate is important. Make it a point to find a peaceful and quiet room where you won't be disturbed during your meditation session. Find a place that isn't too bright or too dark. It shouldn't be overly cold or warm either.
Traditionally, Zazen is practiced by sitting on a round, thick cushion, called a zafu. The cushion helps to keep your hips elevated and your knees rooted to the ground. It helps you achieve a stable and comfortable position. A zabuton is also used. It is placed under your zafu so that your legs and knees are further cushioned.
When beginning your practice of Zen meditation, feel free to use a thick blanket in place of a zafu. Fold up the blanket and place it over another thick blanket that will act as your zabuton.
There are two common mediation positions: half-lotus and full lotus. A half-lotus position means you'll place one foot on its opposite thigh. The other foot should get placed under your other thigh as it rests on the floor. The full lotus position is one where you place each foot onto its opposite thigh.
If your goal is to unlock that peaceful place inside of you called enlightenment, practicing the art of Zen is an excellent way to accomplish it.
Although brief, this book explains the essence of Zen and what it means to practice or master Zen. This is a highly recommended read for those interested in eastern philosophies, specifically in a language relatable to westerners.
Be sure to check out the next articles where Dr. Eric Amidi reviews more books on topics of interest to you.
Write a review and rate below:

Clear Thinking
The mind of the beginner is empty ready to accept to doubt and open to possibilities. Suzuki